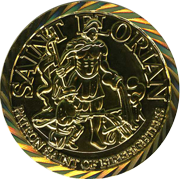 Fire fighter challenge coins are a great way to honor the brave men and women that keep the community safe.
Whether a group of fire fighters recently saved a building full of children or have lived lives dedicated to protecting the community, custom fire fighter coins offer a lasting option for honoring community heroes.
An Honorable Commitment, A Unique Tribute
We don't pretend that we could ever begin to fully pay back any fire fighter for his or her service. But, in truth, we have yet to meet a fire fighter that expects to be paid back. Our community heroes are driven to do what they do without expecting anything in return.
For this reason, we find that a unique, customized coin makes a fitting tribute to the unique efforts and sacrifices made by the brave women and men selflessly coming to the aid of our communities.. Our firefighter challenge coins are a small, yet meaningful, token of appreciation to honor our heroes' achievements.
Making it Personal
A ribbon or certificate is nice, but our personalized challenge coins take it a step further.

We'll add a phrase that means something special and/or an image of importance. Each of these options creates a special touch.

Additionally, these coins will last a lifetime. They can be passed down through generations as a piece to connect younger generations with older ones.
Our Pledge
We will work with you to create a one-of-a-kind piece that won't break your budget. When you contact us to help you make your custom firefighter coins, our experts will listen to your ideas and take into account the budget within which you would like to stay. We have no problem showing you the most cost-efficient way to complete your project.
Then, we will get to work creating beautiful coins you can be proud of. We know your coins will be received by our nation's heroes, and we don't take that fact lightly. You can count on us for attention to detail and dedication to perfection!