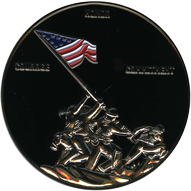 Creating custom Marine challenge coins can be an innovative way to commemorate your fellow Marines. Noble Medals takes pride in providing quality challenge coins to both active and retired USMC veterans. We have a variety of custom Marine coin options available.
A Gift That Lasts
Unlike many other commemorative items, coins and medals will last a lifetime. This is why they are the preferred method of acknowledging the times, places and events shared by the Marines throughout their careers.  By adding a meaningful phrase or image to your Marine challenge coins, you can create a one-of-a-kind piece that you will cherish for years to come.
Our Process
It really is pretty simple. First, you choose the kind of coins you want — whether you want brass coins, zinc coins, round or a custom shape. You also get to decide what wording you would like as well as pictures, patches, etc. on the coins, and choose which coin plating best suits your design.
Our graphic designers will work out a beautiful design for your Marine challenge coins. We specialize in taking your vision and making it a reality.
The options for your coins are only limited by your imagination. These include:
Plating: Whether you want gold, silver, nickel, brass, bronze or a special combination, we can create plated coins that really stand out.
Lettering: Adding a meaningful phrase (such as "Semper Fi") or name can really customize your coins and make it more special for service members that will be receiving them.
Images: Our designers will use your custom images or may use an image you have in mind. These images make our

custom Marine coins

for really stand out.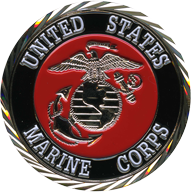 We offer free quotes on our Marine challenge coins so that you don't have to worry about being out any money before you're ready to order . We will give you an idea of what your project will cost at each phase of design and will point out the most cost efficient ways to get our project done.
What's important is that the coins are exactly what you want in order to honor the brave men and women serving with you.