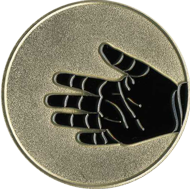 Completely Custom Challenge Coins with No Minimum to Order!
Noble Medals understands that sometimes you don't need 500 coins, 300 coins or maybe even 100 coins.  This is why we offer yet another customization feature to your coin order – no minimum quantity required!  Many coin manufacturers require a minimum of 100 coins per order, but not Noble Medals.  Regardless of how many you might need, we can do it.  This is ideal for smaller events or groups that don't require a large number of coins.  This is also beneficial for testing out a new design or even a new tradition.  No minimum required means no waste.  Your order is optimized from the start!

The Benefit of Having No Minimum Quantity Required
There are many times when you might need an irregular number of coins for your group or event.  Why would you buy 200 coins when you need 184?  or 148?  48, even?  Well, you don't have to any longer.  Noble Medals knows that life isn't always "rounded off".  This is why we want to make only the number of coins you want or need.  Budgets don't always allow for buying extra – we're here to see that you don't have to!  Making the right number of coins for your needs is just another part of providing you with a top-notch ordering experience.

We're Here to Help You Customize Your Complete Order, Regardless of Quantity.
When we make challenge coins, we feel that a 50-coin order is just as important as a 100-coin order.  It's our goal to provide ALL of our customers with the same quality, individualized service, regardless of order size.
Contact Us today for a free quote and let us work with you to get exactly what YOU need…not what WE need you to buy.