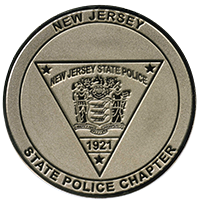 Members of law enforcement agencies across the country are now sharing what was originally a military tradition – the challenge coin.  As a symbol of unity, a reminder of duty and a token of camaraderie, the challenge coin simply cannot be beaten.
Noble Medals understands how hard our law enforcement officers work at personal risk, and is very proud to work with several police departments on their own, personalized law enforcement coins that function as a token of their years of dedication.
The Purpose of a Challenge Coin
For centuries, coins and medals have been cast in order to commemorate a great achievement, remember a significant date or memorialize a special event. Rather than a ribbon or paper certificate, personalized coins will last a lifetime.
Additionally, because our coins are completely personalized, we're able to show the recipients they are even more valued. Placing a special phrase, department number, and/or a significant image on our law enforcement challenge coins creates the "wow" factor that will put your coins over the top.
Customizable options
We all know that "one-size-fits-all" really means "one-size-fits-no-one." For this reason, we provide a myriad of options in order to customize your law enforcement challenge coins. This includes different edges for round coins, custom images, personalized lettering and your choice of plating.
We can even provide custom shapes if a round coin just won't cut it. What is important to us is that our law enforcement challenge coins fit the intended recipients. We understand the hard work and sacrifices they must put in every day and are proud to be a part of honoring their efforts.
We're a down-to-earth company that isn't aimed at cranking out thousands of mass produced coins. We take great care in producing personalized law enforcement coins only as they are ordered. This ensures special attention is dedicated to your order and that the personalized coins you receive are truly unique.